THIRD SYMPOSIUM ON PLANAR VECTOR FIELDS
Lleida, Monday 6th - Friday 10th of September 2010
Organized by Isaac A. García, Jaume Giné, Maite Grau, Jaume Llibre and Susanna Maza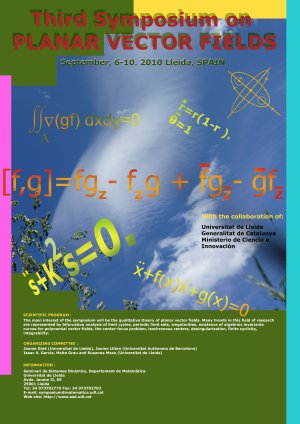 The symposium is the third edition of the "Symposium of Planar Vector Fields" which began at Lleida in November of 1996. The main interest of the Symposium is the qualitative theory of planar vector fields and related topics, as the bifurcation analysis, limit cycles, periodic limit sets, singularities, desingularization, algebraic invariant curves, integrability, center - focus problem, isochronous centers, period maps, finite cyclicity, foliations, etc. The aim of the symposium is two-fold: to survey recent progress made in this field and to explore new directions.
All the conferences will be of one hour and will be given in Spanish.

Confirmed invited speakers:
A. Algaba, A. Buica, A. Cima, T. Coll, A. Gasull, H. Giacomini, A. Guillamon, E. Liz, J. Llibre, V. Mañosa, F. Mañosas, R. Ortega, D. Peralta-Salas, E. Ponce, J.A. Rodríguez, F. Sanz, J. Sotomayor, A. Teruel, J. Torregrosa, F. Torres.
People which have confirmed their participation:
M.J. Álvarez, J.C. Artes, J.L. Bravo, M. Caubergh, M. Fernandez, A. Ferragut, B. García, C. García, I.A. García, J.D. García, J. Giné, M. Grau, X. Jarque, T. Lázaro, J. Mallol, S. Maza, C. Pantazi, S. Perez, S. Rebollo, M. Reyes, J. Ros.
There is a limited number of participants. Any person interested in participating can write an e-mail to symposium@matematica.udl.cat
The participation will be confirmed by the organization during the month of May 2010.
Participants at the III Symposium in 2010.
The talks of the symposium will take place at Room 1.01 of Escola Politècnica Superior, Universitat de Lleida, Avinguda Jaume II, 69 (in front of the river Segre), 25001 Lleida. Tel. 34 973 70 2779 - Fax. 34 973 70 2702.
For more information on the talks (titles and abstracts): PDF
Accomodation:
Hotel AC (http://www.ac-hotels.com/143-AC_LLEIDA.html)
C\ Unió, 8 (in the other side of the river Segre and located at 300 meters from the Escola Politècnica Superior), 25002 Lleida.
Tel. 34 973 28 3910 - Fax. 34 973 28 3911.
Lunches will take place at "Menjador Universitari" in the building next to the Escola Politècnica Superior.
Map of the city of Lleida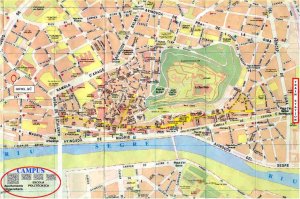 ---
If you arrive at the airport of Barcelona, you can go to Terminal 2 and:
- pick up the train from the airport to Sants Station at Barcelona. There is a train every 30 minutes. In Sants Station you can take the train to Lleida.
- or pick up a direct bus from Barcelona airport to Lleida. There are few buses whose timetable can be checked at http://www.alsa.es/

In case you arrive at the airport of Barcelona, Terminal 1, you can take a free bus which gets to Terminal 2.

In the following link you can find a time table for the trains from Barcelona to Lleida and vice versa:
http://www.renfe.es/horarios/index.html

In the following link you can find a time table for the buses from Barcelona (Estació del Nord) to Lleida and vice versa: http://www.alsa.es/
---
SYMPOSIUM PROGRAM
MONDAY 6th

TUESDAY 7th

WEDNESDAY 8th

THURSDAY 9th

FRIDAY 10th


10:00 - 11:00


REGISTRATION

at

11h

in Room 1.01 of EPS

F. TORRES

E. LIZ

A. BUICA

A. CIMA
(10:30h)

COFFEE BREAK

11:30 - 12:30



E. PONCE


F. SANZ


A. ALGABA

R. ORTEGA


BREAK

12:40 - 13:40



J. TORREGROSA


J.A. RODRÍGUEZ


D. PERALTA-SALAS

A. TERUEL






LUNCH


16:30 - 17:30



H. GIACOMINI


A. GUILLAMON


F. MAÑOSAS

J. LLIBRE


COFFEE BREAK


17:50 - 18:50



A. GASULL


T. COLL


Visit:

Castell dels Templers de Gardeny

J. SOTOMAYOR


Social dinner

---